Bathroom Remodels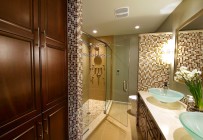 While a bathroom remodel can definitely increase the resale value of your home, the upgrades can enhance your family's enjoyment of your home as well. The bathroom is one of the most used rooms in the home, so upgrades to the bathroom can make a big difference to the enjoyment of the home. Often, new flooring, a new vanity, an upgraded toilet, and an updated bath/shower transform an outdated bathroom into an brand new room.
When planning the layout of the bathroom, consider how you and your family use the bathroom. Your unique needs will dictate the layout and the products used. Think about whether or not you like the current placement of the tub/shower, toilet, and vanity. It is often most cost-effective to keep the new fixtures in the same location, but moving the fixtures is a solution for a bathroom floorplan that has spacing problems. Next, narrow down the options for showers/tubs based on your family's particular needs. Does everyone in the family shower and rarely use the tub? Some homeowners are installing showers without the tubs and using the extra space for a larger vanity or an expanded shower. As long as there is another bathtub in the house, the decision to go with a shower instead of a tub/shower should not hurt resale value. Popular materials for the tub/showers include tile, stone, Corian, and pre-fabricated options like fiberglass and acrylic.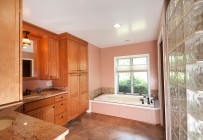 When selecting a vanity, consider spacing and desired style. Would a double-sink vanity be advantageous? If space is a major concern, then a free-standing sink could be an option as long as bathroom storage can be made elsewhere. Vanities today are often a few inches taller than older vanities, which give the benefit of additional storage space and added comfort while using the sink. The proper proportion of drawers and doors in the vanity will help you maximize the storage space.
So many other design options exist to make your bathroom attractive and comfortable to use. Artistic choices such as glass vessel sinks or a custom granite vanity top are both practical and eye-catching. If you love tile and want a warm floor, consider radiant heat installed under the tile. Towel warmers, additional light, and quiet exhaust fans are small items that make a big difference in the comfort level of a bathroom.
The amount of new products and choices for bathrooms can often be overwhelming. Bel Air Construction works with you to craft the perfect design and layout for your new bathroom.