Elegant Modern Master Bath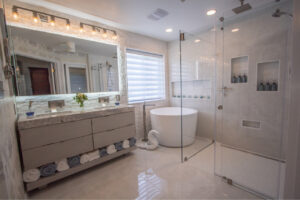 Customer Issues
From her travels and extensive research this design savvy homeowner knew what she wanted to do with her 16-year-old builder's grade master bath – create an elegant and luxurious modern spa-bath.
Bel Air Construction Solutions
Working within the footprint of the previous bath the Bel Air Construction team began to transform an uninspired bathroom into the elegant and luxurious modern spa-bath that the homeowner had envisioned.
The 16-year-old original bath was gutted of a large unused tub, the dated non-functional vanity, and the aluminum-framed, prefabricated-pan shower. All remnants of the former bath were removed including the drywall.
The dramatically transformed space now has a predominately monochromic look that is accented with subtle textures and tones. Features of this master bath renovation include:
A complementary array of wall and floor coverings are used to create the comforting mood of the room. The entire backwall and into the shower is covered in large format (24" x 48") Onici Ghiaccio porcelain tile that has the appearance of natural marble. Texture is added with select walls and niches covered in stacked Realstone artic white ledger stone. Wallpaper with a subtle complementary pattern is used on an accent wall. In keeping with the sleek clean look, the floor is covered in matching large format (24" x 48") Onici Ghiaccio porcelain tile.
A light gray tone Durasupreme floating vanity with a footed under shelf is finished to give it the look of a piece of heirloom furniture. The countertop is a stunning Cambria Summerhill quartz with a cream backdrop, and a pattern of soft gray, and flecks of black that flows across its surface. Complementing the vanity is a large, backlit mirror by Keojinn. Wall mounted Signature Hardware Reston waterfall faucets in brushed nickel are carefully aligned with the drains of the double sinks.
Replacing the unused tub is a 41" Siglo Japanese Soaking tub with a free-standing faucet and hand shower from Signature Hardware.
In keeping with the sleek clean line design, the entry to the spa-shower is curbless and is enclosed in frameless clear glass. It has both ceiling mounted rainfall and wall mounted handheld shower heads, 2 storage niches and a footrest niche. The shower floor of is 1" x 1" mosaic of Realstone Malta Ice glass tile. A linear drain blends into the shower floor providing an elegant and near seamless look.
A custom-made pocket door with translucent frosted glass separates the water closet from the main room while allowing natural light to enter.
All tile is installed over Schluter substrates, an integrated family of products in which the individual components collectively form a bonded, watertight assembly which eliminates the risk of failures due to water and vapor penetration.
The use of high performance Spectralock grout with built-in Microban®antimicrobial product protection fights the growth of mold and mildew on grout surface.
A combination of lighting options including the backlit mirror, recessed ceiling LEDs and vanity lights allows the homeowner to set the mood of the room
Bel Air Construction Team
Interior Designer – Bobbie McMillion
Design plans – Chet Hendricks
Project Manager – Jake Graham
Tilework – Patrick Hall
Countertops – Classic Granite and Marble
Cabinet Installation – Kane Minton
Plumbing – Joe Bahr
Electrical – DeLuca Electric
Carpenter – Neil Hebermehl
Painting – Honario Ryes
Wallpaper – The Wallpaper Studio
Stone – Patrick Hall
Custom Pocket Door – Neil Hebermehl
Custom glass – Quality Frameless