Family Kitchens
For many families, the kitchen is the hub of the house. Families use their kitchens not only for food preparation, but for dining, homework, entertaining, play areas, and office space. The casual option of having the kitchen and dining area in the same location makes food serving and clean up much quicker. By having one large room devoted to multiple functions, families find that they can spend more time together even though they might all be engaged in different tasks.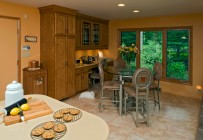 A kitchen renovation or replacement can create an entire new dynamic in your home and bring your family together. Proper planning and utilization of space is essential to fit all of these functions into your new kitchen. If your current kitchen is too small to accommodate all of your desired functions, consider an enlargement through an addition or an expansion into other rooms. A kitchen addition typically requires a greater financial investment, but you have the benefit of designing the exact size and shape of the room you want. If you prefer not to do an addition, consider if there are other rooms that you could renovate to expand your kitchen. For example, formal dining rooms are often underused rooms. Bel Air Construction's solutions often involve removing walls and utilizing space from adjacent rooms, creating a big open area.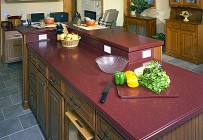 During the planning stages of your kitchen project, consider how specifically your family would use the room. If you cook many meals, then perhaps double ovens, an additional prep sink, state-of-the-art appliances, and larger countertops should be in your design. If your family does more take out, then more emphasis can be placed on conveniences such as warming drawers and built-in microwave drawers. In designing the dining area, do you want a separate dining area or do you like the idea of seating at the island?
When the family kitchen is very large, it sometimes makes sense to "separate" the different functional areas of the family kitchen by utilizing different materials. For example, we may install tile in the kitchen area and carpet in a small office desk or play area off to the side. Different but complementing paint colors can be used in different areas. Another popular trend is to use different cabinetry colors and finishes for different areas of the kitchen. For instance, designing lighter colored cabinetry for the majority of the cabinets with darker island cabinetry creates an aesthetically pleasing contrast.
As with every other kitchen remodel, planning is crucial. Important considerations in the kitchen include cabinetry style and color choices, adequate lighting, countertop material and shape selection, hardware decisions, flooring choice, appliance choices, and many more options. Beginning with a free estimate from our in-home consultation, Bel Air Construction's design team works with you to create a kitchen for your family's unique needs. With unmatched quality and attention to details, Bel Air Construction replaces your current kitchen with a kitchen that will become the favorite room in your home.