Great Rooms
A great room addition creates a large, spacious area in your home that is used for multiple purposes. Great rooms are often considered living, dining, and entertaining areas. When designing your great room, first decide how you plan to use the room. Many great rooms contain sitting areas, dining areas, entertainment areas, or even play areas for children.
Without proper planning, a great room can look overcrowded. A good design separates the large room into different zones for the multiple uses of the room. Using different types of flooring in the different zones is one way to visually separate the areas. For example, the dining area could be gorgeous tile while the living or play area is carpeted or wood flooring. Other solutions include half-walls, varying ceiling heights, different color schemes in different areas.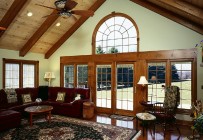 Built-in bookcases and shelving offer attractive solutions for entertainment systems, storage, and display. With many options on cabinetry styles, colors, and finishes, the built-in display can function as a beautiful piece of furniture as well. A fireplace adds a cozy element to a great room as well as an additional heat source. Skylights and windows create natural lighting sources that can make the great room feel even more spacious.
As with any addition to the home, blending in with the rest of the house is a major concern. Bel Air Construction has experience with all types of additions in many different styles of homes. Your addition will match perfectly with the rest of the home. Computer graphic 3D renderings will help you visualize the final project before construction begins. With unmatched quality and attention to detail, Bel Air Construction will work with you to design a great room that is made uniquely for you.