In-Law Suites
Many people want to be able to care for an aging relative in their homes while still providing their loved ones with much-needed independence and privacy. In-law suite additions offer a solution to the growing needs of the family. "Aging in place" has become a desired goal of the aging population. A well-designed in-law addition will keep your loved ones close to you while maintaining their independence.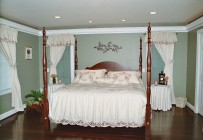 While a "typical" in-law suite will include a bedroom, bathroom, and possibly a kitchenette, the design possibilities for these rooms are endless. When designing the layout of the suite, proper planning is crucial. For example, your family may not need assistance with walking right now, but is there a chance that wheelchair accessibility will be necessary in the future? If so, then door widths, spacing in the rooms, and wheelchair shower access should all be considered. If your kitchen is in another section of the home, does it make sense to add a kitchenette to your in-law suite plan? Will your family member wish to maintain independence? If so, then a separate entrance or a laundry area in the suite might be a good idea.
"Universal design" is a concept used in building design to mean features that are usable for everyone of all ages. Most in-law suites incorporate universal design ideas in the project. For example, well-placed grab bars can help make the shower and bath more easily usable for everyone. Grab bars today have become much more decorative and no longer resemble the institutional-style grab bars of yesterday. Other examples of universal design features include curbless or no-threshold showers, lever door handles, wider doors, and kitchen countertops of varying heights.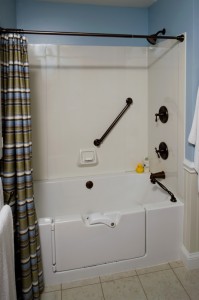 With proper planning and attention to detail, you can have the perfect living area to help you and your loved ones age in your own home. As with any addition to the home, blending in with the rest of the house is a major concern. Bel Air Construction has experience with all types of additions in many different styles of homes. Your addition will match perfectly with the rest of the home. Computer graphic 3D renderings will help you visualize the final project before construction begins. With unmatched quality and attention to detail, Bel Air Construction will work with you to design an in-law suite that is made uniquely for you.