Master Bathroom Remodels
A newly remodeled master bathroom can become a spa-like sanctuary in the comfort of your own home. Relaxing in a soaking tub or a shower with body jets could be the perfect remedy at the end of a long day. Double-sink vanities can give couples their personal space in the bathroom. Heated floors, towel warmers and rainshower faucets are now luxury options that are very affordable.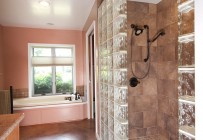 When designing a master bathroom, proper planning of space is essential because the bathroom is one of the smaller rooms in the home. Many master bathrooms have separate showers and tubs. Soaking tubs are replacing jetted tubs in many homes, creating a more quiet and peaceful bathing experience. Showers are large and often feature accessories such as multiple body jets, rainshower faucetry and built-in seats. Steam room systems can even be built into the bathrooms today.
In contemplating the use of space, consider separating the toilet from the rest of the bathroom with a full partition or a half wall for privacy. In addition, attention to lighting is crucial during the design process. All of the important areas of the bathroom should be separately illuminated including the vanity, shower, tub, and general lighting. The ability to dim the lights also enhances the relaxation experience. Often, homeowners choose to match the lighting with the vanity hardware and faucetry.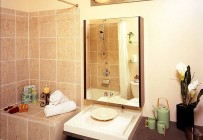 Tile and stone are popular options for showers and floors. Vanities come in multiple styles, colors, and finishes. Some of the popular finishes for the faucetry and cabinetry hardware include luxurious oil-rubbed bronze and brushed nickel.
With so many options and considerations, proper planning and design are essential. Bel Air Construction works with you to create a luxurious design that crafts a spa experience in your new master bathroom.