Kitchen Remodeling Projects
Today, a kitchen is often the hub of the home. A transformation to the kitchen greatly improves your enjoyment of your home. With a kitchen remodeling, you can update your kitchen so that it meets your unique family's cooking and entertaining needs.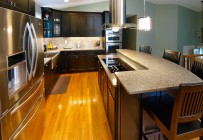 Many people today remodel or enlarge their kitchens in order to increase counter space, gain usable storage space, create eating areas, update the look, achieve better lighting, or update the appliances. Some of the popular trends in kitchen remodeling include stone countertops, double sinks, under-cabinet lighting, beautiful tile and stone backsplashes, and functional and stunning islands.
Everyone has unique style preferences… traditional or contemporary styles, cherry or maple cabinetry, granite or Corian countertops, tile or hardwood floors, stainless steel appliances or cabinetry-matching wood panels overlaying the appliances. In addition, each family has its own unique needs and will benefit from particular features such as double ovens, additional dishwasher drawers, warming drawers for entertaining, built-in spice racks, pot-filler faucetry near the stove, or microwave drawers.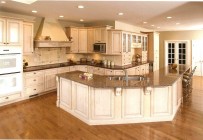 A well-designed kitchen will uniquely fit your family's dining and entertaining needs. Bel Air Construction's design team works with you to create a kitchen for your unique needs. The traditional process of remodeling a kitchen included finding a designer, creating a design, and then finding a contractor. This tedious process involves a lot of back-and-forth between all parties involved and usually results in compromising on either budget or design preferences. Bel Air Construction's design-build process achieves continuity between the design and construction stages. From the beginning, your project will be uniquely designed for your specific needs, preferences, and budget. We'll provide a free estimate via an in-home consultation.  A good design takes into account the idea that every family is different, and the perfect kitchen for one family may not be the perfect kitchen for a different family. With unmatched quality and attention to details, Bel Air Construction will help you replace your current kitchen with a kitchen that will become the favorite room in your home.
Get a free estimate on your kitchen remodel today! Bel Air Construction will use your ideas, goals, and design preferences for your space and help you replace your current kitchen with a beautiful and inviting kitchen where you will love to spend your time.