Outdoor Living Spaces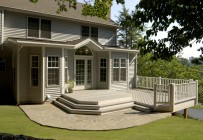 When you want to be outside enjoying the fresh air, and outdoor living space is perfect for entertaining as well as your personal enjoyment. The simple deck option has evolved into creating an outdoor space with modern amenities built uniquely for you.
When designing your outdoor living space, consider how you would like the area to be used and what amenities you would like to include. Some of your choices will affect the shape and design of your area. Popular outdoor amenities today include built-in grills, hot tubs, mini fridges, and fire pits. Consider how the outdoor area will tie into your existing home. If you do not have plans to build an outdoor kitchen, you may want to make sure that the entrance to your outdoor area is close to your inside kitchen. This will make transporting food and drinks much easier.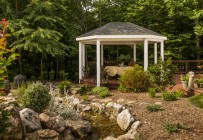 Consider how your outdoor area will blend with your existing landscaping. Upgrades to the landscaping including plants, trees, retaining walls, ponds, and waterfalls can create a peaceful setting where you feel close to nature right outside your own home. Lighting and heating are other important considerations if you plan to use your entertaining area at night or in slightly colder temperatures.
In building your outdoor space, you have many options regarding materials. Natural stone or concrete can be used on patios. Decking can be natural wood or environmentally friendly composite decking materials. In addition, many of the outdoor materials today are low-maintenance.
Bel Air Construction has years of experience in designing beautiful outdoor living spaces. Whether your goal is to enjoy the outdoors from the comfort of your home or to create a fun space for entertaining, we can help you design an outdoor space made just for you.