Room Expansions
When you like the overall layout of your home but need more space in one particular area, a room expansion is a good solution. Room expansions are possible on all types of rooms including kitchens, bedrooms, bathrooms, and other living areas. For example, perhaps the kitchen is in the perfect location in your home, but you wish it were bigger. An expansion could give you the room you need for an island, separate eating area, double ovens, or more storage space. A kitchen expansion can turn a cramped area into a spacious cooking, dining, and entertaining hub of your home.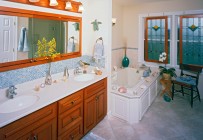 A bedroom expansion can give you the room to turn a basic bedroom into a master bedroom suite with a spacious bathroom. Bathroom expansions can turn a small powder bath into a full bathroom with room for a shower and tub. A room expansion is a good idea when you want a certain feature in the room that is only possible with more space.
Sometimes, it is possible to expand a room by utilizing another seldom-used room. While the trend in the past was to have a separate formal dining area, many people today are not using their formal dining rooms. In these cases, the kitchen could possibly be extended into the dining room to create a big open cooking and dining area. If a large closet is not needed, a bathroom can be expanded into that space. A few extra feet in a bathroom makes a big difference regarding what amenities will fit.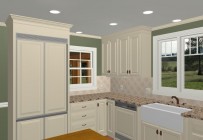 In other cases, it makes more sense to expand a room outside the existing floor plan of the house through a small addition. With this option, you do not lose any space in the rest of your home. As with any addition to the home, blending in with the rest of the house is a major concern. Bel Air Construction has experience with all types of additions in many different styles of homes. Your addition will match perfectly with the rest of the home. Computer graphic 3D renderings will help you visualize the final project before construction begins. (link to 3D Design/Build section?) With unmatched quality and attention to detail, Bel Air Construction will work with you to design the sunroom that is made uniquely for you.