Screened Deck Improves Summer Living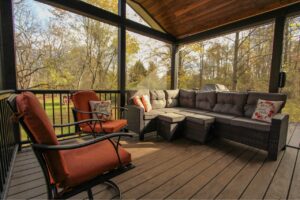 Customer Issues
The homeowners wanted to add versatility to an existing deck by screening in a portion while retaining the original design features, specifically the existing decking and black vinyl railings.

They now have a covered screened-in porch where they can relax and enjoy their expansive wooded grounds without being bothered by summer pests.
Bel Air Construction Solutions
Adding to the challenge of maintaining the design features of the existing deck, the project presented two other challenges. First, the additional weight of the screened-in structure required new footers, posts and framing to provide the necessary support of the new structure. Secondly, the lack of availability of black vinyl trim required the repurposing of black rail materials as a work-around to cover the headers and beams to maintain continuity with the original design.

The new screened-in structure is elegantly married onto the existing deck structure of the home but has its own design features.

A prominent design feature is the open-gable roof line that allows in natural light.

A defining feature of the interior design is the pre-finished Synergy wood cathedral ceiling in the Southern Pine Colonial finish.

Responding to the homeowner's desire for an expansive view of the back yard, the ScreenEze screening system is applied from floor-to-ceiling providing an unobstructed view.

The original decking and vinyl railing with black balusters were reinstalled.
Bel Air Construction Team
Project Manager – Jeremiah Brown

Electrical – DeLuca Electric

Carpenter – Sosa Partners