Sunroom Additions
Let the sunshine in with a sunroom addition
Whether you enjoy the colorful leaves falling in autumn, tranquil snowfall in the winter, or the lively green energy of spring, Bel Air Construction designs sunrooms to bring the pleasures of nature to the comfort of your home. Beautifully arranged windows and skylights allow natural sunlight to brighten your home. Your new sunroom can serve as a peaceful retreat as well as perfect area for entertaining.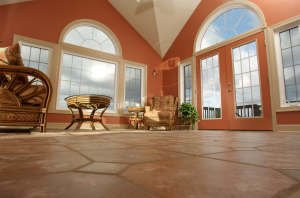 How will the room be used?
When designing a sunroom, first consider how you plan to use the room. The function of the room will often dictate the design of the room and the materials used. Do you want the sunroom to serve as an additional entertaining area? If so, proper attention should be given to the placement of the sunroom with respect to the rest of the home, especially the kitchen. Do you plan on having a television in the sunroom? If so, then perhaps built-in blinds between the glass of the windows and skylights is a good idea. Do you plan on having a sound system or will you need places to store or display items? Built-in bookcases and shelving will be perfect solutions.
Windows to the wow
As the windows are such a large part of a sunroom's design, consider what features you would like your windows to have. Wood windows create a natural feel while vinyl windows offer a low-maintenance option. Because many sunrooms have a considerable amount of window space, energy-efficient options are must to keep your sunroom at a comfortable temperature. You can choose from many stylish options on grills, shades, and blinds as well.
Color is crucial
Colors play a major role in creating the ambiance in a sunroom. Some colors can make the space feel cozy and inviting while other colors create a spacious and dramatic mood. Bel Air Construction's team of designers will help you pick styles and colors to create the experience you are looking for. In addition, consider whether to integrate your outdoor living areas with your new sunroom. A deck leading out of the sunroom or beautiful landscaping could greatly add to the enjoyment of your new sunroom.
Make sure the design blends
As with any addition to the home, blending in with the rest of the house is a major concern. Bel Air Construction has experience with all types of additions in many different styles of homes. Your addition will match perfectly with the rest of the home. Computer graphic 3D renderings will help you visualize the final project before construction begins. With unmatched quality and attention to detail, Bel Air Construction will work with you to design the sunroom that is made uniquely for you.
If you have questions or are interested in adding a sunroom to your home, give us a call on the BAC home remodeling hotline at 1-888-557-1BAC.  We are happy to answer this or your other home improvement questions.