Traditional Kitchens
Many people want a Mediterranean, country, or an Old World look in their kitchens, but they still want the modern conveniences of a new kitchen. With proper planning and design, Bel Air Construction can help you replace your current kitchen with a time-saving and innovative kitchen while blending with your traditional style preferences.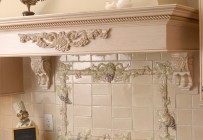 One of the most important aspects of a traditional kitchen is the cabinetry. Old World and Tuscan styles typically have very rich wood raised-panel cabinetry often with glazed and antique finishes. DuraSupreme and Kabinart manufacturers offer many options on cabinetry styles, colors, and finishes. You may also choose to "conceal" your appliances with cabinet-matching wood overlays. Decorative glass and mullions are popular as well. One particularly striking design option is mixing cabinet door styles and colors… for example, dark cherry cabinetry around the perimeter of the kitchen with a lighter colored island.
Traditional kitchens are known for their display of many natural materials such as marble, stone, or butcher block countertops. In addition, people love the decorative and vintage characteristics of a traditional style. You have many options with moldings, corbels, farm sinks, columns, decorative lighting, and custom tile backsplashes.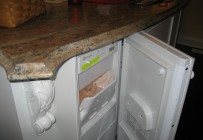 Bel Air Construction works with you to design a new traditional kitchen built uniquely for you and your family. Do you have large family dinners or do you entertain often? Would you like more storage space? Would your family benefit from an additional prep sink? We'll start with a free estimate via our in-home consultation.  A well-designed kitchen is not only beautiful but also makes food preparation and serving pleasurable. With unmatched quality and attention to details, Bel Air Construction replaces your current kitchen with a kitchen that will become the favorite room in your home.