Two Partial Bath Renovations Complete the Look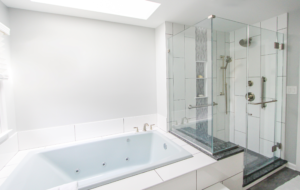 Customer Issues
The homeowners had a partial bath renovation completed updating the vanity and topping it with a granite countertop that left the remainder of the bath looking shabby and not chic. They wanted to complete the renovation by replacing the floor and updating the shower.
Bel Air Construction Solutions
The Bel Air Construction design team carefully selected materials that matched or complemented the previous renovation.

The prefabricated shower was removed. It is replaced with a larger custom designed one that features multiple shower heads and grab bars. Vertically installed Emser 10"x30" Vertigo White tiles are accentuated with a waterfall effect using Emser Lucente Grazia Stone and Glass Linear tiles that features a storage niche. Unpolished, 2"x2" Daltile Empire Black mosaic floor tile contrasts with the white walls and complement the waterfall. A Blue Pearl granite seat and curb match the vanity countertop

The non-descript and difficult to clean aluminum framed shower enclosure was replaced with a contemporary frameless shower enclosure.

Emser 10"x30" Vertigo White tile installed horizontally surrounds the tub.

The new floor is Emser Explorer Paris laid in a 1/3 brick pattern and provides contrast to the white vanity and tub surround. 

An issue with humidity being captured in the skylight area is resolved by installing a moisture sensing exhaust fan.

Multiple grab bars that also function as towel bars were installed.