From Start To Finish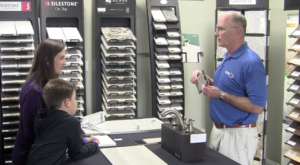 A large home improvement project can be a very stressful undertaking. Bel Air Construction's process will alleviate many of the common stresses of remodeling and ensure that you have clear communication from start to finish.
Here is a general idea of what to expect when working with Bel Air Construction:
Free Estimate: Complimentary In-Home Consultation
A project designer will meet with you in your home to discuss your ideas for your project. They will go through a detailed questionnaire to determine your unique needs and ideas for your project. General budget will be discussed as well as the feasibility of completing the project. We will give you information about Bel Air Construction's process and answer any questions you have about the company.
Design Development

During this stage, the Bel Air Construction team organizes all of the details of your project. We collect measurements, take photos, and develop the design for your project. You'll have the opportunity to visit our Design Center/Showroom so you can participate in the process
Design Meeting(s)

During these meetings, Bel Air Construction presents the initial design and project specifications. 3D computer-generated images are shown at this time. We review the various options for your project as well as corresponding budgets. We discuss the products that will be used and the options available with those products.
Finalizing the Project

At this stage, we finalize the design with you and you approve all of the materials. In addition, you will make product selections (colors, styles, sizes, etc.). Once we reach this point, all of the major decisions have been made and we feel great about the design and the plan for the project.
Behind the Scenes Preparation

After the project decisions have been finalized, your job is turned over to a Project Manager who will see the job through to completion. All of the materials are ordered and the specifications are gone over in detail in meetings between the Design Team and the Project Manager.
Pre-Construction Conference

Shortly before the work begins on your home, the Project Designer and Project Manager will meet with you at your home and do a brief "walk-through" to confirm the plan for the project. We will clarify any of your scheduling questions and other general concerns about the process. At this point, the Project Manager takes over as your point of contact for the completion of the project.
Completion of the Project

Shortly after the pre-construction conference, work will begin on your home. Schedules and deliveries have already been planned out in detail to ensure that the job progresses as seamlessly as possible. The Project Manager will communicate with you consistently to inform you of the progress of the job and any unforeseen issues that might come up. The finished product is a home renovation that will enhance your enjoyment of your home.