Exterior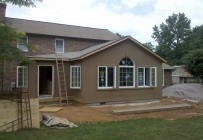 Exterior Remodeling: An exterior makeover can dramatically improve the curb appeal of your home. We often think of roofing, siding, and windows as essential products necessary to protect the inside of our homes. Most people do not spend a lot of time staring at the outside of their homes, and therefore, they do not realize how these exterior elements create the first impression of the home. The combination of exterior products sets the tone for the overall style of the home. Exterior renovations are one of the quickest ways to give your home a makeover.
When replacing roofing, siding, and windows, you do not have to stick with the style or color scheme you currently have. We have more products, styles, and colors available to us than we did in the past. Perhaps a different color scheme would make your home more attractive. You can even modify the style of your home by changing the products on the outside.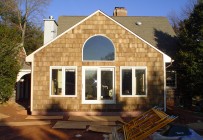 Today's low-maintenance products have the benefit of appearing more "natural." For example, many people enjoy authenticity of wood siding but do not enjoy the maintenance. Fiber cement siding is made to look very similar to wood but does not have the maintenance. Vinyl siding that is made today is lower gloss than the older vinyl siding, which keeps it from looking like plastic. Many asphalt roofing shingles are thick and made to look like slate or wood shake roofs.
In addition to curb appeal, exterior renovations give the practical benefit of added insulation and energy efficiency. New windows can dramatically lower energy bills, and some of the siding products have built-in insulation. Because most of the exterior products are low-maintenance, your renovations will look like new for a long time. With the added energy efficiency and the enhanced curb appeal, an exterior makeover definitely adds value to your home.