Additions
Often people want more living space but they would like to stay in their home full of memories rather than go through the headaches of moving. Building an addition is a way to increase space and create the house you need today without moving. A well-planned and well-designed addition can literally transform the entire home.
Popular additions today include large kitchen additions, in-law apartments, master bedroom additions, master bath suites and spacious sunrooms. A new addition can increase the value of your home, but more importantly, it will add to your lifestyle and enjoyment of your home. The traditional process of building an addition included finding an architect, creating a design, and then finding a contractor. This tedious process involves a lot of back-and-forth between all of the parties involved, usually with a lot of compromising on either budget or design preferences.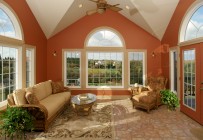 At Bel Air Construction our unique Design/Build process achieves continuity with the design and the construction stages. From the beginning, your addition will be a uniquely designed for your specific needs, preferences, and budget. You can have peace of mind knowing that your room will be exactly what you imagined. State-of-the-art design tools such as CAD renderings help you visualize your project before the work begins. The 3D renderings help you "see" exactly how your addition will look, and the visual aid will help you decide which colors, styles, and products best fit with your vision.
Our team of professionals are experienced remodelers with decades of experience building additions throughout Baltimore and Harford counties.  From your first meeting with our owner, Michael Watts, through the final stages of your remodeling project, every aspect of your addition is handled with the utmost care, professionalism and craftsmanship.
For more information about our services and ideas for your next project call the BAC home remodeling hotline at 1-888-557-1BAC.