Custom Rec Rooms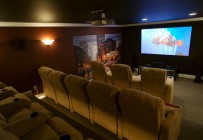 In-home movie theaters, sports-themed rec rooms, game rooms, and "man-caves" – the possibilities are endless when designing a custom rec room. Many homeowners want to create a separate area for entertaining family and friends. Others enjoy creating a theme room in their homes like a 50's diner or an English pub.
Most homeowners choose to create a custom rec room while renovating the basement. Rec rooms, however, can be placed anywhere in the home that space allows. When planning your rec room renovation, consider how you and your guests intend to use the space. For example, if your rec room will be the new location for watching the football games, would it be nice to have a kitchenette nearby for food preparation and easy cleanup? Would a bathroom in the immediate area be a good idea? Space planning is also crucial when considering amenities such as pool tables and big screen TVs.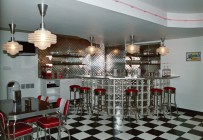 As custom rec rooms become more popular, you have many choices in products and accessories. Newer products can be designed to look retro but still retain the low-maintenance characteristics of today's products. For example, the 50's black and white checkerboard floor can be recreated with a softer, low-maintenance luxury vinyl flooring option. The same 50's diner can have authentic features such as glass block and stainless steel backdrops in a soda bar coupled with hidden modern amenities such as convenient microwave drawers and mini refrigerators.
As with every other home renovation, planning is crucial. Bel Air Construction's design team works with you to create a custom rec room designed uniquely for you and your family. With unmatched quality and attention to details, Bel Air Construction will create a custom rec room that will become the favorite room in your home.