Bathroom Additions
Sometimes the existing bathroom space is not large enough to fit the growing needs of the family or the desired bathroom amenities. In these cases, a bathroom addition or expansion is an excellent solution. An additional bathroom will also increase the resale value of the home.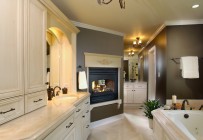 One of the benefits of a bathroom addition is that you are not constrained by an existing bathroom floorplan. You can design the space exactly how you want to meet your family's needs. Do you want a separate shower and soaking tub? Would you like to incorporate a large, double-sink vanity? Perhaps you would like to partition off the toilet for privacy. All of these options are possible when you are designing a new bathroom addition. The amenities that you want in your new bathroom can determine the size and shape of the addition.
Many new bathrooms have separate showers and tubs. Soaking tubs are replacing jetted tubs in many homes, creating a more quiet and peaceful bathing experience. Showers are large and often feature accessories such as multiple body jets, rainshower faucetry and built-in seats. Steam room systems can even be built into the bathrooms today.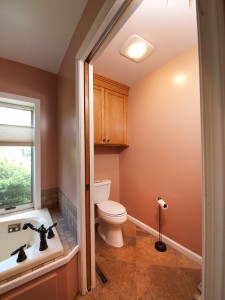 In contemplating the use of space, consider separating the toilet from the rest of the bathroom with a full partition or a half wall for privacy. In addition, attention to lighting is crucial during the design process. All of the important areas of the bathroom should be separately illuminated including the vanity, shower, tub, and general lighting. The ability to dim the lights also enhances the relaxation experience. Often, homeowners choose to match the lighting with the vanity hardware and faucetry.
Tile and stone are popular options for showers and floors. Vanities come in multiple styles, colors, and finishes. Some of the popular finishes for the faucetry and cabinetry hardware include luxurious oil-rubbed bronze and brushed nickel.
Bel Air Construction's design/build team works with you to design the new bathroom uniquely suited to you. As with any addition to the home, blending in with the rest of the house is a major concern. Bel Air Construction has experience with all types of additions in many different styles of homes. Your addition will match perfectly with the rest of the home. Computer graphic 3D renderings will help you visualize the final project before construction begins. With unmatched quality and attention to detail, Bel Air Construction will work with you to design the bathroom that is made uniquely for you.