Bathroom update: it was time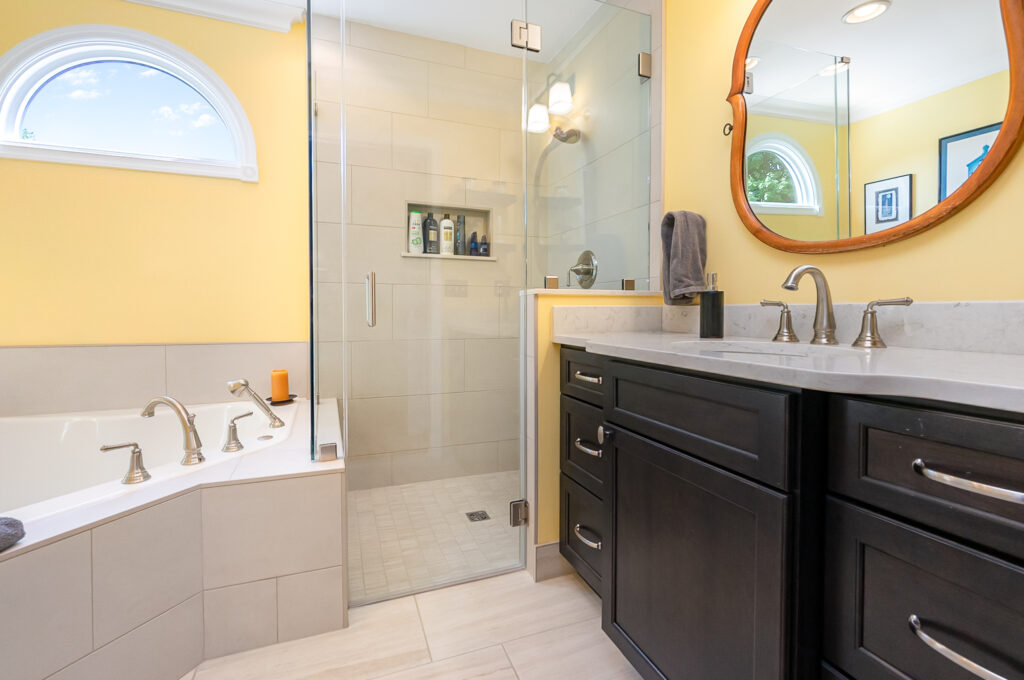 Customer Issues
This long time Bel Air Construction family decided that it was time to make some functional and style improvements to their aging bathrooms. The hall bath was from the original 1986 build. Bel Air Construction created the master bath as part of a 4th bedroom addition in 1997.
Bel Air Construction Solutions
Common features of all three rooms
All tile is installed over Schluter substrates, an integrated family of products in which the individual components collectively form a bonded, watertight assembly which eliminates the risk of failures due to water and vapor penetration.
The use of high-performance grout with built-in antimicrobial product protection fights the growth of mold and mildew on grout surface.
Master Bathroom
Working within the footprint of the previous bath the Bel Air Construction team began to improve the Master bath's function and update its styling while preserving the jetted soaking tub and a few design features of the former bath.
The previous small shower has been replaced with a larger custom-designed one. The shower walls of dessert toned Daltile Rigid Clay Plateau Dune 12" x 24" tile rise to the ceiling enhancing the spaciousness of the room. The curb less shower floor of 1×3 mosaic Daltile Articulo Editorial White floor tile matches the floor in the remainder of the room. The finishing touch is a custom clear glass shower enclosure.
A pedestal sink has been replaced with a multifunction onyx stained, cherry vanity by Dura Supreme. The vanity is topped with Carrara-marble like quartz countertop carefully contoured to complement the vanity. Vanity hardware is brushed nickel to match the plumbing fixtures.
Contrasting with the onyx cabinetry and complementary to the wall tiles is 12×24 Daltile Articulo Editorial White floor tile with a flowing travertine-look.
Brushed nickel tub, shower and vanity faucets are from the American Standard Delancey collection.
Hall Bathroom
This nearly 40-year-old space has been dramatically restyled and upgraded from being the very functional and much used "kids" bath.
The existing tub was removed and replaced with a custom-designed shower that features curb less entry. The wall tile is a desert toned Daltile Rigid Clay Plateau Salt that rises to meet the ceiling. The wall tile is complemented with stone looking Marazzi Uniche Beige Chario tile in a random mosaic pattern. A custom splash panel is used to conserve space in the small room.
The mosaic shower tiles meet matching 12×24 Marazzi Uniche Beige Chario at the curb less entry and continue into the rest of the room.
The builder grade vanity and countertop are replaced with a Dura Supreme Kendall Panel Dove colored vanity with 2 drawers and a cabinet for convenient storage. The vanity is topped with a Quartzite Taj Mahal countertop.
The polished chrome vanity and shower faucet trim are by Kohler Devonshire and include both hand-held and rain shower heads.
Bel Air Construction Team
Interior Designer – Bernadette Drew
Project Manager – Jeremiah Brown
Tilework – Patrick Hall
Countertops Vanities – JJB Contractors and Bel Air Construction
Drywall – JJB Contractors and Toro Contracting and Remodeling
Plumbing – Ace Plumbing
Electrical – DeLuca Electric
Framing – Bel Air Construction and Toro Contracting and Remodeling
Demo – Bel Air Construction and Toro Contracting and Remodeling
Painting – Homeowner
Shower Enclosure – Quality Frameless Showers
Photography – Kim Kruk, Next Door Photos