Stunning master bath transformation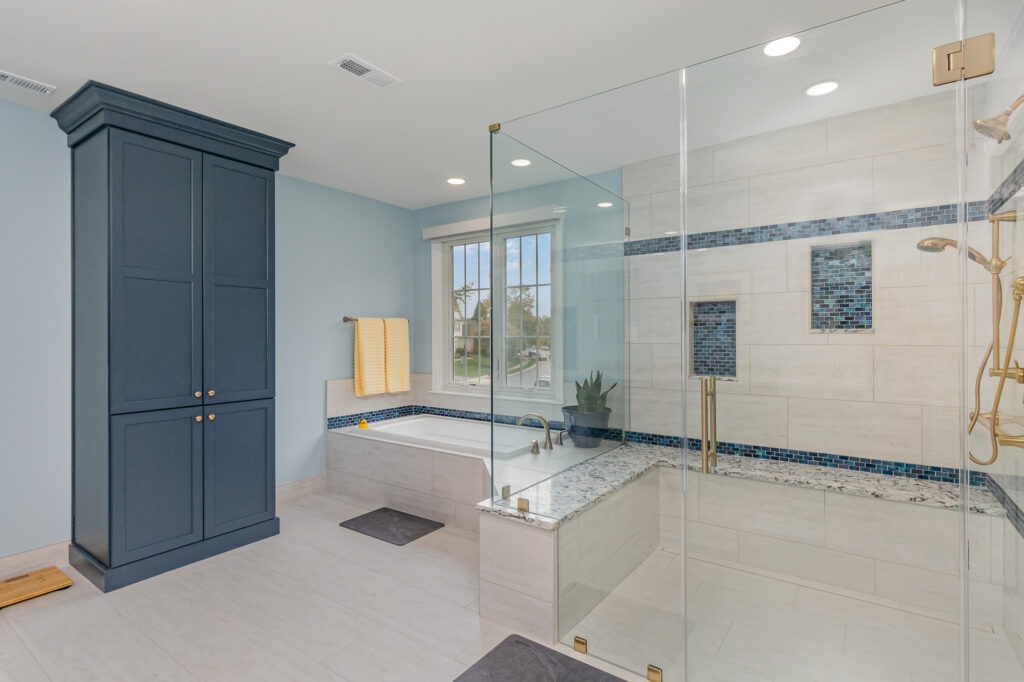 Customer Issues
This 25-year-old builder grade bathroom was due for a major upgrade in both function and design. The jetted tub was a useless space hog since it did not work and leaked. The size of the shower had been dictated by the preformed shower pan and not the desire of the homeowner. All materials and finishes were outdated.
Bel Air Construction Solutions
The Bel Air Construction team designed a stunning transformation for this large master bath that includes improved use of the space, improved functionality, and a relaxing color scheme.
Significant changes include:
The existing 12 square foot shower was removed and replaced with a custom designed 30 square foot one with an "L" shaped seat and frameless glass enclosure. Shower fixtures are from the Delta Monitor 17 series, a dual function pressure balanced shower system with integrated volume control, shower head, and handheld.
The large non-working jetted tub and tub surround that consumed a large portion of the room has been replaced with a new reasonably sized Kohler Archer collection, 60″ soaker tub with Delta Lahara plumbing fixtures.
The new 36" tall Dura Supreme vanity is 10' long with two sinks is topped with a Cambria Praa Sands countertop with bold marble-like veining. A combination of cabinets, and drawers provides flexible storage options. Faucets are from the Delta Lahara series. Vanity lighting is provided by overhead recessed lighting and lighted vanity mirrors.
The previously enclosed lavatory room was reimagined as a nook in the corner with a half wall to provide privacy.
A space consuming linen closet was removed and replaced with an elegant floor to ceiling Dura Supreme linen cabinet that matches the vanity.
Wall and floor tiles are from the same family of tiles but selected for its application. The neutral tone of the tile is accentuated by two ribbons of blue glass tiles. The same glass tile is used in the niches.
All tile is installed over Schluter substrates, an integrated family of products in which the individual components collectively form a bonded, watertight assembly which eliminates the risk of failures due to water and vapor penetration.
The use of high-performance grout with built-in antimicrobial product protection fights the growth of mold and mildew on grout surface.
Bel Air Construction Team
Interior Designer – Bobbie McMillon
Construction Plans – Krista Waller
Project Manager – Geoff Boecher
Tilework – Patrick Hall
Countertops – Classic Granite and Marble
Vanities – Toro Construction and Remodeling
Plumbing – Ace Plumbing
Electrical – Mattingly Electric
Framing – Toro Construction and Remodeling
Demo – Toro Construction and Remodeling
Painting – Toro Construction and Remodeling
Shower Enclosure – Quality Frameless Showers
Photography – Kim Kruk, Next Door Photos