Eat-In Kitchens & Islands
Today, the separate formal dining room is not as popular is it was in the past. Instead, more people prefer that casual and convenient option of eating in the kitchen. Our lives are busier than ever, and having the dining area in the kitchen makes food serving and clean up much quicker. In addition, when people design a new kitchen that reflects their personal tastes, they typically want to spend more time in that room. Kitchens have truly become the hub of activity in the home.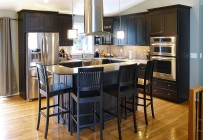 Many homeowners choose to install islands in their kitchens that function as both a serving area and an eating area. Often, the islands have multiple levels to form a casual separation between the food prep area and the eating area. Sometimes, it is beneficial to install an additional sink in the island area to help with food prep and cleanup.
Another way to achieve an eat-in kitchen is with a breakfast nook or dining table off to the side. This requires more space than utilizing an island. Even so, some larger kitchens can accommodate both a dining area off to the side in addition to seating at the island.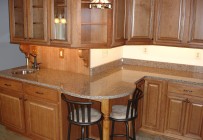 Overall, eat-in kitchens are becoming popular because they bring everyone together for the food preparation through the cleanup. In addition, an eat-in kitchen makes food prep and cleanup much faster as you are not traveling between rooms to serve food.
Bel Air Construction's design team works with you to create a kitchen for your unique needs, starting with a free estimate from our complimentary in-home consultation. A good design takes into account the idea that every family is different, and the perfect kitchen for one family may not be the perfect kitchen for a different family. With unmatched quality and attention to details, Bel Air Construction can replace your current kitchen with a kitchen that will become the favorite room in your home.