Desire for Larger Closet Gets Spacious Master Bath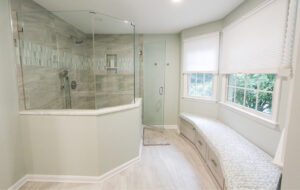 Customer Issues
The primary initiative behind this master bathroom renovation was the desire to gain additional space in the master bedroom closet.
The homeowner's secondary desire to update the outdated master bath.
Bel Air Construction Solutions
To gain the additional closet space the Bel Air Construction design team harvested space by squaring off an angled wall shared by the closet and the master bath.
The result was that a small shower was able to be replaced with a large, spa-like shower that features a shower seat, two shower heads, a honed pebble shower floor and a frameless glass enclosure.
The flooring and the shower walls are tiled with Emser Technique matte glazed porcelain. The shower walls are accented with a band of Emser La Vie glass mosaic tile and a niche.
An unused, large, jetted tub was removed and replaced by a custom-built window seat with under seat storage.
A large 6 drawer, two cabinet vanity is topped by a quartz counter and double vessel sinks, integrated with the vanity is a linen closet.