Kitchen Designed for the Serious Cook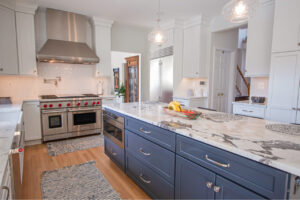 Customer Issues
The homeowner's goal for this kitchen remodel was to improve functionality and increase the home's value. The existing kitchen was old and needed an update – cabinets were falling apart, the downdraft on the Jenn-Air range made it difficult to cook items correctly, there was little to no storage, lighting was insufficient. A poor layout dominated by a hook-shaped peninsula inhibited the ability to work efficiently
Bel Air Construction Solutions
Initially the homeowner was considering the removal of wall and the elimination of formal dining room to get the kitchen they desired. Using 3D design software including a video fly-through of the space the Bel Air Construction design team demonstrated how all the homeowner's desires could be achieved in the existing kitchen footprint while preserving the formal dining room.

The most significant change was to remove the hook-shaped peninsula and replace it with a large island with counter seating, storage and an under counter microwave. The island base is Dura Supreme Kendall painted in a blue/black shade to contrast with the boldly veined Dover White Carrara marble countertop.
The lack of storage issue was solved by installing over 40 linear feet of white Dura Supreme cabinetry including on a previously underutilized wall. Upper cabinets now reach to the ceiling creating additional storage that was not previously used.
The cabinetry is loaded with special features including glass fronts to display collectables, a lazy-susan corner, trash/recycling center, pull out bread board, roll out shelves, hidden recharging center, spice rack, tray dividers, and cutlery dividers.
Cabinet bases are topped with elegant Carrara marble.
The existing hardwood floor was preserved patched and refinished.
A multi-burner Wolf range is paired with a 1300 CFM range hood and features a pot filler.
Bel Air Construction Team
Interior Designer – Bobbie McMillon
Design plans – Chet Hendricks
Project Manager – Jeremiah Brown
Tilework – Patrick Hall
Countertops – Classic Granite and Mable
Cabinet Installation – Kane Minton
Plumbing – Joe Bahr
Electrical – Jay Gill
Framing – Geoff Boecher
Floor Refinishing – Lady Baltimore Floors