Covered Deck Transformed Into Bright Sunroom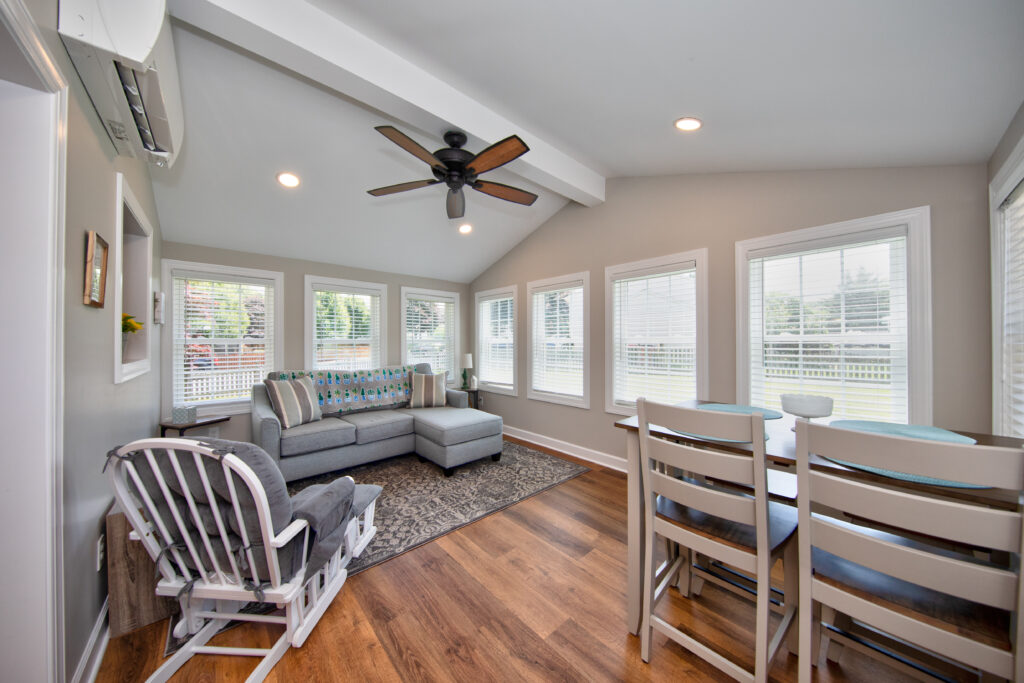 Customer Issues
The homeowners wanted to expand their living space by converting an existing covered deck into a sunroom and upgrade the adjacent existing paver patio and the same time.
Bel Air Construction Solutions
Because the existing deck had been professionally and properly constructed, Bel Air Construction was able to use much of the existing structure with minimal changes to handle the new load.
The homeowners now have an additional 200 square feet of comfort conditioned indoor living space that is contiguous to their kitchen and renovated patio.
You are welcomed into the space through a wide, cased opening where a balky sliding glass door once stood.
The room has a bright and airy feel through a combination of Pella double hung windows dominating three walls of the room and the retention of the cathedral ceiling.

The floor is Mohawk's easy to maintain waterproof and scratch resistant SolidTech laminate in stormy sands.

Recessed LED lighting and remote-controlled ceiling fan complete the interior features of the room.

On the exterior the new sunroom is elegantly married into the existing structure with siding and roofing materials that match the rest of the home.

The old paver patio was taken up and replaced with a stamped concrete pad dyed to complement the home's color palette.

A seat wall skirted in stone veneer and capped with bluestone for the seat defines the patio space. The veneer stone skirting used on the seat continues around the foundation of the sunroom providing a unifying feature.
Bel Air Construction Team
Interior Designer – Bernadette Drew
Project Manager – Jeremiah Brown
Electrical – DeLuca Electric
Demo and Framing – Sosa Partners Construction
Painting – Toro Contracting and Remodeling
HVAC – S&L Prime
Concrete and Stone – L&G Masonry Contractors
Drywall – Aguirre Drywall
Flooring – Precise Remodeling
Siding and Gutters – Alpha Contacting and Construction